Throughout the pandemic, local public radio and television stations have kept Americans connected to classrooms, educational resources, local and national news, and public safety communications. Station broadcast technology, like towers and master control systems, allow 99% of American households to receive these critical public services. Unfortunately, much of this technology is at risk of failing. Most public media stations are operating with outdated infrastructure and equipment that must be replaced. Stations on tight budgets are often forced to choose between supporting station operations with the news, educational services and programming needed to serve local communities or diverting resources to replace outdated technology.
The only path to prevent the resulting public media service interruptions and outages is for Congress to invest in station infrastructure.
Why We Must Invest in Public Media Infrastructure
An assessment commissioned by the Corporation for Public Broadcasting (CPB) reviewed stations' current technology, their replacement plans and time frames, and the associated financial needs. The goal was to understand the state of station infrastructure and stations' plans for the next two to five years.
Stations of all sizes and geographic locations reported overwhelming infrastructure needs.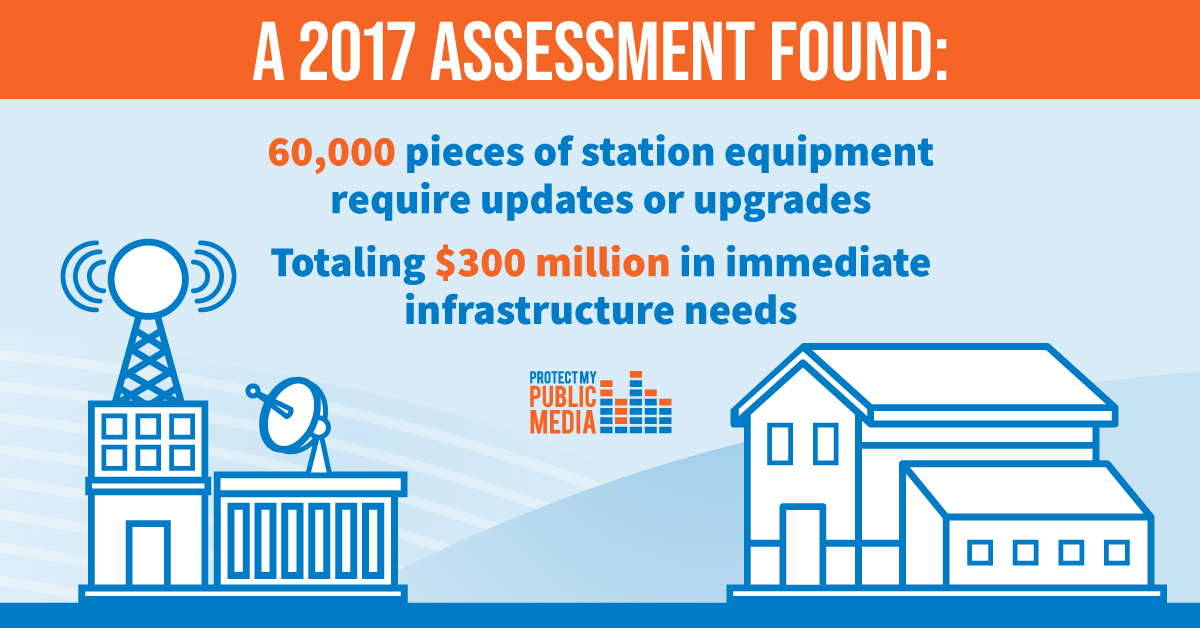 The State of Infrastructure and Equipment
Public media stations are using infrastructure and equipment that are decades past projected life spans. This increases the risk of operational failures that will affect viewers, listeners, and stations. An equipment malfunction could leave communities without a public media station signal for minutes or hours. With more Americans depending on public media than ever before, especially for crucial public safety information during emergencies, this is a troubling scenario.
Further, equipment failures can create hazardous conditions at stations, including electrical fires. Maintenance of older station technology is a challenge because in many instances manufacturers no longer make the parts required for necessary fixes.
Below is a just a small sample of equipment and infrastructure in need of replacement but still currently in use by local public media stations across the country.
What Caused the Gap
Constantly evolving broadcast technology
Public media stations strive to meet the latest communications standards to best serve their communities, but the rising costs of service and sparse funding opportunities have made it impossible to close the gap.
The Elimination of Long-Standing Federal Grant Programs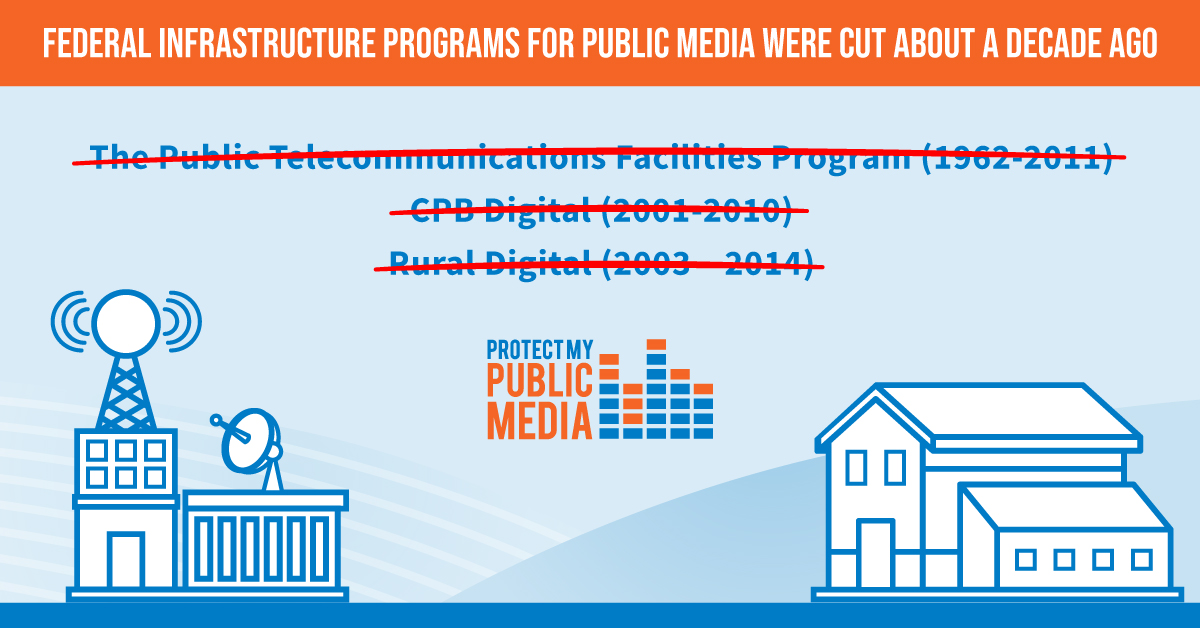 These programs helped stations, particularly those serving rural and remote communities, fund construction, upgrades, and replacements to broadcast technology equipment. During the same timeframe, federal funding for the Corporation for Public Broadcasting was frozen, offering no additional support for stations' infrastructure.
Additional Financial Pressures Due to COVID-19
The pandemic has financially impacted nonprofits across the country, including public media stations. Since March 2020, stations have prioritized funds to provide enhanced public services in remote learning, public service journalism, and public safety, limiting infrastructure maintenance and modernization.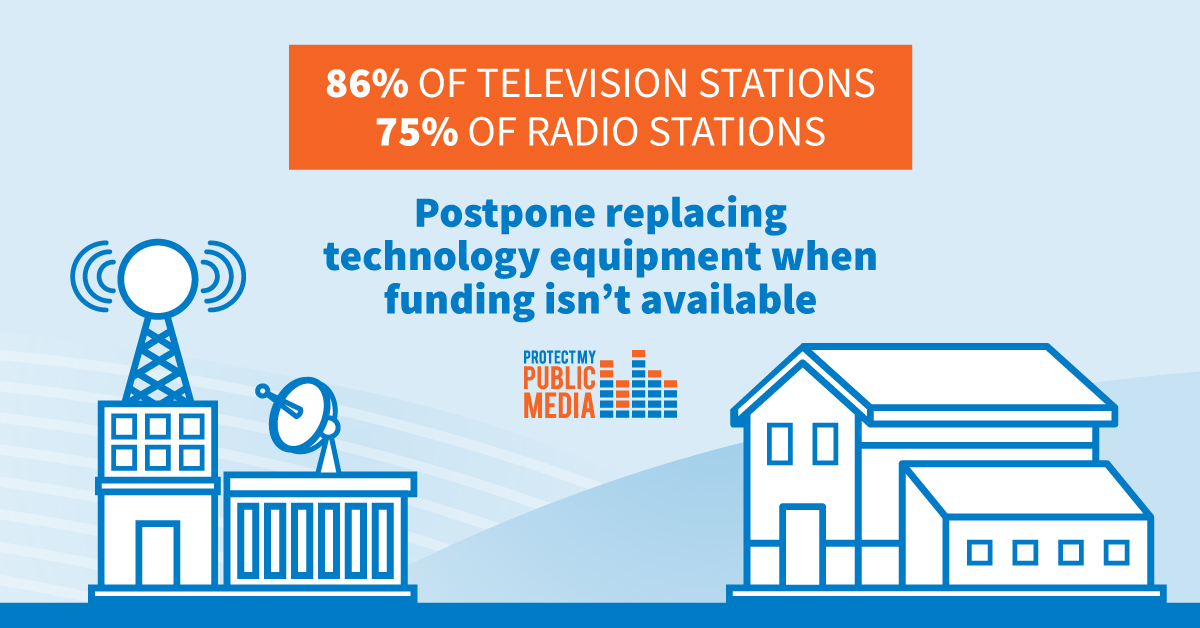 How We Can Support Station Infrastructure and Equipment Fixes?
Congress is making infrastructure funding decisions now.
Recently, Congress adopted a budget resolution, allowing for the development of legislation that could address public media infrastructure.
The House and Senate Committees are drafting and considering budgetary legislation for the programs they oversee, a process that will continue for a few weeks. Select Commerce Committee and leadership Members will wield the most influence over this process.
To maintain our connections to public media stations into the future, we're calling on key constituents to urge their Members of Congress to provide public media infrastructure funding in the legislation.
To see if you're represented by these Members, input your information to send an email. If a prepopulated message appears, your outreach could be the key to modernizing public media stations across the country and sustaining local service. Send a message supporting public media infrastructure funding.
This could be our best chance to prevent widespread public media service interruptions and outages and build a better future for public media stations. Thanks for doing your part.