Local public radio stations are evolving quickly across America. However, one thing remains the same: our dedication to fact-based, public service journalism that grows knowledgeable audiences and creates a better understanding of our nation, our neighborhoods, and our world.
This commitment did not go unnoticed when the national Edward R. Murrow Award winners for outstanding achievements in electronic journalism were announced a few weeks ago. In fact, public radio stations took home over 70% of the awards for journalistic excellence.
Public radio's appeal isn't limited to critical acclaim; listeners appreciate the significance of independent American journalism too. Public radio's listenership has grown by over four million in the past two years, outpacing its commercial news counterparts.
Local radio station listenership is on the rise for a reason. Our stations are using a model that works:
We provide reliable, verified facts delivered via respectful, informed conversations that promote deeper thinking and broader perspectives.
We identify and produce news tailored to our communities.
We frequently break and share local stories nationally, ensuring that coverage extends beyond the narratives of major cities and includes what matters to our communities.
This is what Valley Public Radio is dedicated to bringing to our listeners in Central California.
Journalism that Saves Lives
At Valley Public Radio, we're proud to serve our listeners by focusing on the issues that concern them most. We recently fulfilled this mission by breaking the news on the valley fever epidemic in California.
In 2013, Valley Public Radio partnered with the Center for Health Journalism Collaborative to launch Just One Breath, an investigative reporting series on the dangerous fungal epidemic valley fever, which was plaguing our community. Our focused local reporting brought widespread attention to our community and this once-hidden disease and caught the attention of the Center for Disease Control and Prevention, which issued a report confirming one of our findings—that cases of valley fever had risen to alarming levels over the previous decade.
Our collaborative coverage also received national media attention: it garnered a Columbia Journalism Review 'laurel,' and we partnered with NPR to broadcast a report about the disease nationally on Morning Edition. That attention also helped inspire other coverage about valley fever from The New York Times, CBS News, and the BBC in the weeks that followed. It was rewarding to have our hardworking journalists earn national acclaim for the work they do in our community every day.
Local and national officials were also prompted to act on the epidemic because of our station's journalistic efforts. House Majority Leader Kevin McCarthy (R-CA) took the initiative and addressed the issue head-on by organizing a Valley Fever Symposium featuring leading medical experts. A special task force, which included local Congressman David Valadao (R-CA) in addition to Leader McCarthy, was also launched.
These actionable changes proved the power of local journalism to serve and make a difference in the lives of our listeners and neighbors.
Continuing Journalism that Matters
Like Valley Public Radio, public media stations across the country serve our communities through local, independent journalism. Important newsroom stories made possible by local journalists help continue the American tradition of journalistic excellence. These stations and stories give a voice to too often overlooked communities and issues and provide our nation with reliable, unbiased news.
Valley Public Radio wants to ensure that stations like ours can continue to report on the uniquely local news that matters most to listeners across America. Please join us and speak out about how local public media journalism is important to you.
Use the tools below to take action to protect the federal investment in local public media stations and the journalistic services we provide. Audiences deserve independent journalism that serves our communities and country.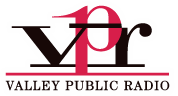 Mariam Stepanian is the President and General Manager of Valley Public Radio in Central California. Valley Public Radio is a leading provider of news, music, and entertainment content for California's San Joaquin Valley.
Ways To Take Action