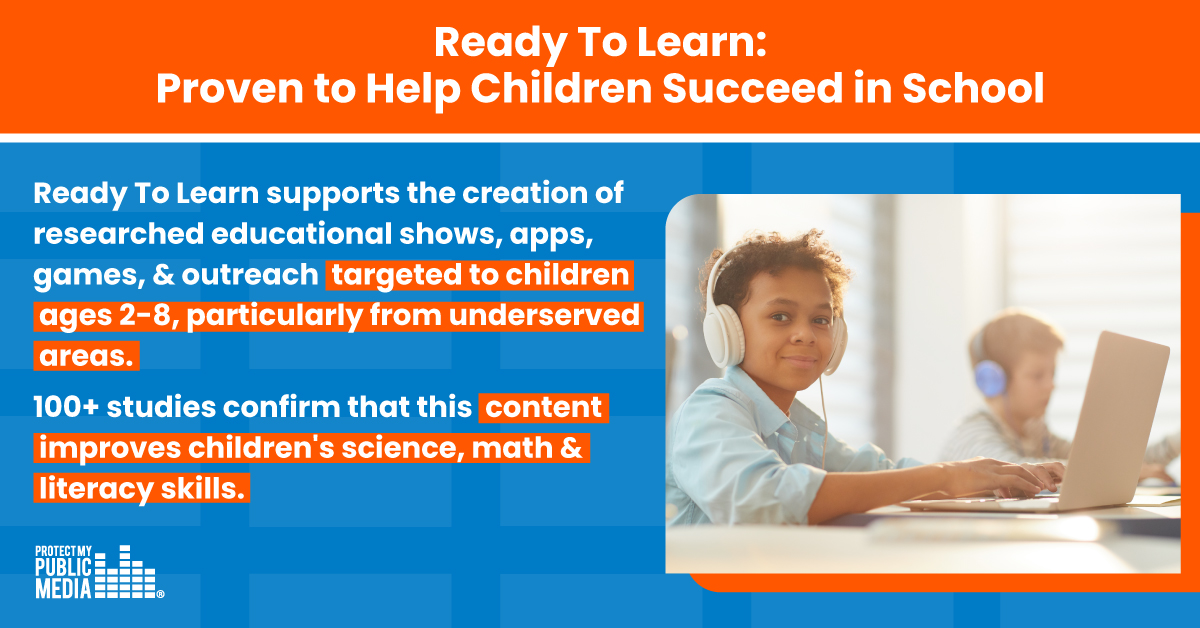 ---
Public television's beloved early educational programming, complementary media content and community engagement has improved academic outcomes for generations of children, helping close the achievement gap for the nation's youngest learners. Federal funding through the Ready To Learn grant program makes these educational services possible.
Take a moment to help ensure children and families continue to have access to public media's early educational media content.
Contact Your Lawmakers
---
What does Ready To Learn fund?
For more than 50 years, local public media stations across the country have prepared children for success in school and life through beloved educational children's media content.
Ready To Learn, a U.S. Department of Education competitive grant program, helps fund the creation of public media's educational television and digital media for preschool and early elementary school children and their families, particularly from underserved areas.
Under this grant, the Corporation for Public Broadcasting and PBS KIDS work with producers, researchers, local public media stations, and other partners to create, distribute and evaluate PBS KIDS multiplatform content to engage children, families, educators in learning experiences at home, in preschool and out-of-school settings.
Creation of Educational Content

The Ready To Learn grant has supported the production of PBS KIDS series Molly of Denali, Elinor Wonders Why, Peg+Cat, Odd Squad, SuperWHY!, Martha Speaks and more, as well as complementary interactive, educational online and mobile games, and hands-on activities.

Research and Evaluation of Content

Ready To Learn content is rigorously researched as it is developed and thoroughly evaluated to ensure it helps children make academic gains.

Community Outreach Programs

The grant enables local public television stations to team up with community partners to train teachers and caregivers to use these educational resources in schools, day care centers, libraries, hospitals and more, and host educational summer camps, mobile learning labs and other opportunities for children. Public media stations also leverage the content to host their own educational events to support underserved early learners in their communities.
Why is Ready To Learn important?
Since 2005, more than 100 research and evaluation studies show that children make academic gains in science, math and literacy when they watch public television's educational programming and play complementary, interactive online and mobile games, including preschoolers from low income-communities.
When children interact with Ready To Learn content they experience a:
14% increase in knowledge of numbers, operations and algebraic thinking
25% increase in skip counting
21% increase in naming letters
37% increase in letter sounds
Specific content has been proven to help children make the following gains:
After engaging with Odd Squad, children's average scores on post-tests were higher than their average skills on pre-tests for math skills.
Children who used media content from Peg+Cat showed improvement in critical math areas, involving ordinal numbers, spatial relationships and 3-D shapes.
Children from low-income households who were provided with Ready To Learn funded Molly of Denali videos, digital games, and activities were better able to solve problems using informational text – oral, written, or visual text designed to inform – a fundamental part of literacy that paves the way for future learning, particularly in social studies and the sciences. After only nine weeks of access, this impact is equivalent to the difference in reading skills a first grader typically develops over three months.
More than half of 3-4-year-olds in the United States do not attend preschool. However, virtually every American household can access Ready To Learn's educational content through 357 local public television stations.
In 2020, 13 million children viewed Ready To Learn content over-the-air through their local public television stations and streamed 107 million times across PBS KIDS digital platforms.
What is the value of Ready To Learn?
The Ready To Learn program supports the creation of researched, effective educational media content that is available to all American children and families for free. This program helps ensure that every early learner has access to educational resources that will prepare them for success in school.
The federal investment in Ready To Learn is small in comparison to its significant impact on closing the achievement gap, improving children's academic outcomes, and giving all Americans a bright future.