As 2020 ends, we look back on public media's brightest moments throughout the year.
Public Media Stations Adjust to Safely Serve Their Communities
In response to COVID-19, public media stations made dramatic adjustments to how they operated. Journalists recorded programs from their bathtubs and closets. Public media stations worked around the clock to provide communities critical information amid an unprecedented health crisis.
Hello and welcome to public radio's laziest home recording studio set up, left of the flannels but just right of the cardigans. pic.twitter.com/7X5bxHGQ6R

— Zachariah Hughes (@ZachHughesNews) April 13, 2020
While non-federal station revenues declined due to the pandemic, public radio and television stations prioritized providing essential services despite all challenges. Many stations quickly shifted resources to better inform local listeners and viewers about the pandemic, provide educational and entertainment content, and use new platforms to share critical information with expanded audiences. This special coverage and programming helped public media stations safely serve their communities in response to the pandemic crisis.
Public Television Stations Step in to Provide Educational Services for Students Nationwide
Following school closures due to COVID-19 in March, local public media stations quickly transitioned to provide at-home learning services to pre-K through 12th grade students in all 50 states and U.S. territories.
Public television stations became classrooms and support systems for teachers, parents and caregivers, broadcasting curriculum-aligned content and lessons from local teachers over-the-air to ensure pre-K through 12th grade students had access to educational content. These services have been especially critical for those without internet access and is helping bridge the digital divide.
🍎Students and parents – watch our outstanding NJ teachers live on @njtv weekdays between 9:00am – 1:00pm! #NJTVLearningLive @NJTVNews https://t.co/4MDUas6qjU

— Lt. Governor Sheila Oliver (@LtGovOliver) April 7, 2020
From offering lesson plans, to classroom content, to social-emotional and other educational resources, public television's resources for teachers, parents and caregivers have been unmatched.
Public Radio Digital Platforms See Record-breaking Audience During Election Week
Americans overwhelmingly turned to public radio for trusted information about the election. It's all in the numbers — NPR.org reached over 34.7 million unique users during election week, 50% more users visited public radio station websites on Election Day compared to a typical Tuesday, and 43% more visited than Election Day 2016.
This increase in digital viewers and listeners was in part a result of public radio's expanded presence on apps, audio streams, podcasts, social media, and more in 2020.
Public Media Stations Pilot Datacasting to Support Disconnected Students
Select public media stations started to explore using existing broadcast infrastructure to deliver instructional content to students without access to the internet. Datacasting allows educators and school districts to send lesson plans, homework and more to student devices without an internet connection.
Indiana, Pennsylvania, and South Carolina are testing the use of datacasting for remote learning. The initial results are promising. In Indiana, about one-third of the Jennings County's 4,000 students are now using datacasting for at-home learning, and additional grant money will allow another 7,000 students to use the technology, hopefully by the end of January.
Public Radio Connects Audiences with Artists Amid COVID-19
With in-person events and concerts paused due to COVID-19, public radio is providing relief to communities and artists alike by bringing people together through music, even while we remain apart.
These efforts include NPR's national hit Tiny Desk, which hosts major artists in a smaller intimate format, and Maine Public Radio's Maine Tiny Screen — a Zoom spinoff of the program focused on local musicians from the Pine Tree State.
Other stations joined in too, with Interlochen Public Radio (Northern Michigan) collaborating with neighboring WKAR (East Lansing, MI) and WRCJ (Detroit, MI) to co-produce their new Great Lakes Concerts weekly series.
You can learn more about public radio remote music resources on our blog.
Public Media Raises Awareness on Mental Health
Illuminating mental health struggles and strategies to help those affected has only grown more important during COVID-19.
This year, in response to a Milwaukee PBS and the Milwaukee Journal Sentinel documentary, "You're Not Alone," about youth mental health challenges, the Wisconsin State Legislature passed legislation to pay for suicide prevention programs in the state's schools.
In the Greater Washington, D.C. region, WETA launched Well Beings, a national mental health resource for young people, their families and caregivers.
PBS Turns 50
This year PBS turned 50! For half a century, PBS and 350 public television stations have educated and inspired viewers across America through programming, educational resources, and community-based events. Recently, CBS News profiled public television stations' standout services.
Want to understand the public media system in 8 minutes? Watch this piece on @PBS's impact on its 50th birthday. https://t.co/fTUJoVxgSX #PBS50

— Tory Starr (@torystarr3) December 10, 2020
More importantly, for the 16th year in a row, public television is ranked 1st in public trust, a high mark during an era of misinformation.
Something to look forward to — NPR and member stations will celebrate their 50th next year!
Protect My Public Media Celebrates 10 Years of Advocacy
This month, Protect My Public Media celebrates its 10th anniversary. To honor a decade of protecting local public radio and television stations, the campaign published a blog, spotlighting the network's triumphs over the years.
This year alone, grassroots advocates sent more than 400,000 messages to Congress. Our network's outreach helped over 1,400 local public radio and television stations survive COVID-19 by securing CARES Act funding in March 2020.
Lastly, Congress approved increased federal funding for local public media stations as part of the Fiscal Year 2021 spending package.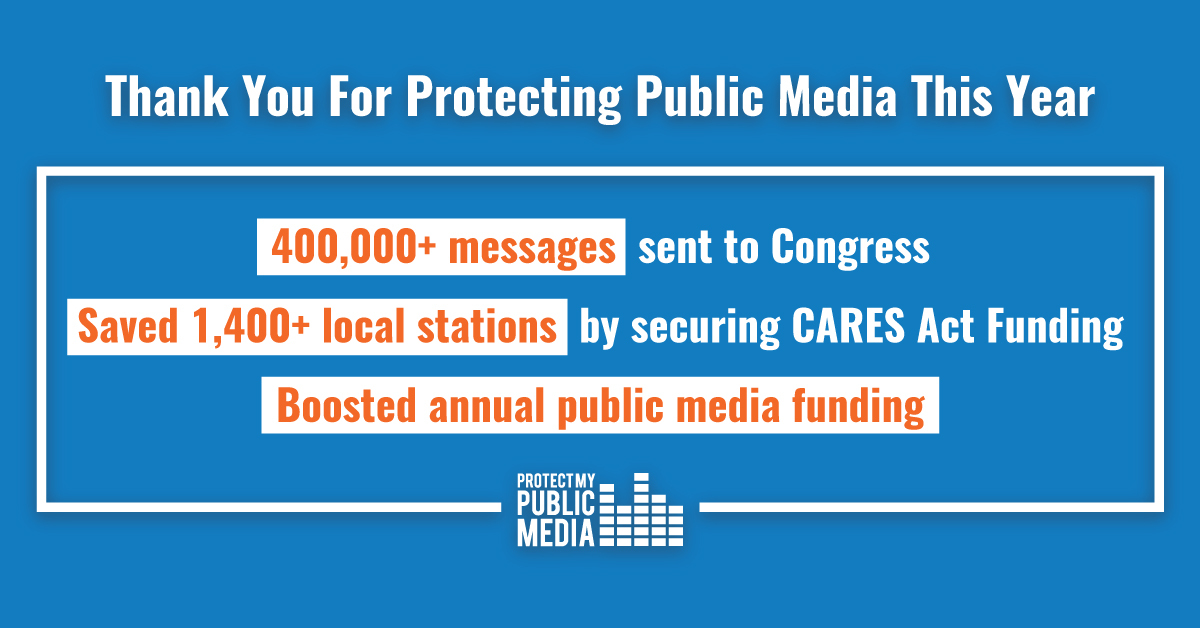 We are proud of our public media stations, their public services, and our Protect My Public Media advocates for recognizing and communicating the local importance of the federal investment in public media.
Thank you for your support that helped our local public media stations reach the highest level of service during such a difficult year. We look forward to working with you to spotlight public media's local contributions to a new White House and a new Congress next year.